Downtown Hilo Spotlight: Hilo Farmerʻs Market!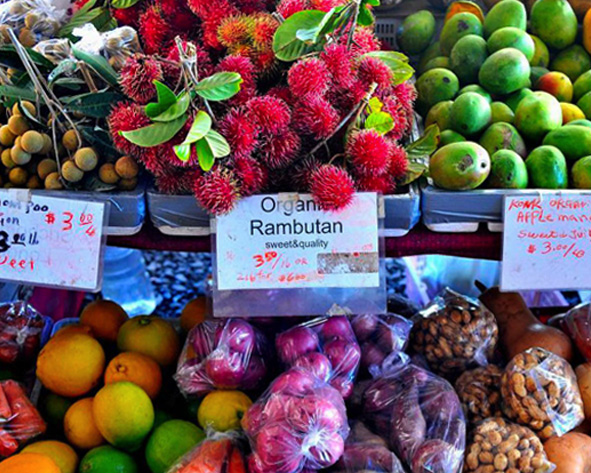 One of the most noticeable charms in Downtown Hilo is the Hilo Farmer's Market. An eclectic atmosphere where local merchants and farmers are mixed with a diversity of cultures and people, who all gather in an interactive open market environment.
Where you can get stalks of sweet scented tuberose and sweet stalks of corn, both grown in Waimea, right next to the dragonfruit and papayas organically grown in Puna, right next to tables of Filipino fare boxed in plastic bento containers, like pancit garnished with kalamansi or suman wrapped in ti leaves, right next to jars of lehua honey and packages of Kona coffee and bags of fresh poi. You can find almost any local food or tropical fruit, flower or vegetable that's grown in the islands for a pretty reasonable price at Hilo Farmer's Market.
Locals come to fulfill shopping list items, most times from vendors that they have built long-time relationships with throughout the years. Most visitors from around the world are also attracted to the multitude of interesting produce and island souvenirs at a bargain, while still others feel good about having made an investment in the community through their purchases.

Meet Keith Delacruz – Owner of Hilo Farmerʻs Market!

Speaking one-on-one with current business owner, Keith Delacruz, it's been a long road to see this downtown spot become a town staple.
What started out as a small business opportunity for local farmers to sell their produce has turned into a full-time major operation with ongoing expansions and development ahead. Delacruz took over the property and business in 1999. He grew up on the island of O'ahu and had a real estate management career in Honolulu before he was looking to settle down, literally. He turned to Hilo as his new beginning when the opportunity presented itself. Delacruz had just gotten back from a work project in New Jersey and was given the offer to purchase the corner market space adjacent to Reuben's Mexican Restaurant. Since then, he and his family have enjoyed the slower pace of our island's lifestyle while building a sustainable community venue.
Some of the growth that Hilo's Farmer's Market has made was to expand their location to the space parallel from the corner property on the other side of the street–that occurred in 2001. Delacruz promoted that space for merchandise vendors, jewelers, artists and craft folks. Everything from bags, sarongs, mats and traditional wear to sterling silver jewelry, organic essential oils and salves, from thrift shop finds to asian wear to fresh puakenikeni leis to one of a kind island gifts to having a therapeutic massage are among the many products and services in over 60+ booth spaces.
Delacruz has expanded their staff of 5 to a staff of 8. They've also expanded their space to include an indoor food court nestled around the corner just a couple of doors down. They've established an onsite office where they service the needs of new and longtime merchants. They've upgraded their electronic system to access and process EBT cards for exchange currency that allows those SNAP customers to purchase produce from any of the vendors at the market. (EBT exchanges are only done on Wednesday and Saturday during business hours). And Hilo Farmer's Market is open every day of the week now with their signature market days on Wednesdays and Saturdays.
In 2006, a parking lot was added for customers and vendors. They've added live music in the ccourtyard on Saturdays. New bathrooms (also coded for disabled customers) were installed, as well as a leased commercial kitchen space for food vendors. Their commercial kitchen rates are open to the community through an application process. Contact them today for more information! 
In 2016, they revamped their website to include a section where they promote vendors' products–part of the fees that vendors pay for their space (still $20/day) includes website promotion*. (*Only offered to those vendors who pay by the month).
Delacruz said that they are doing better than expected with the Farmer's Market. They've recovered from the recession and it's slowly getting better. He hopes that this venue will be a legacy for Downtown Hilo for many many more years to come!
Bloggerʻs Note:
We want to thank Keith Delacruz and Hilo Farmer's Market for partnering with Destination Hilo during the renovation of Mo'oheau Bandstand. Back in September 2016, we were looking at losing our venue space for our weekly Hilo Hula Tuesdays event when the County gave us notice of the impending renovations. We discussed some venue options and approached Keith with the market space as a possible relocation. Keith was very supportive and open to the idea. He gave us the needed space that included a stage and seating area under their covered tents. We were also given storage space for our required set-ups. Keith was instrumental in allowing Destination Hilo to have a smooth transition, but more importantly, so that we could continue sharing Hawaiian music and culture with our malihini visitors and community each week. MAHALO NUI LOA, KEITH.