PETROGLYPH PRESS CELEBRATES 60 YEARS OF SHARING STORIES
PETROGLYPH PRESS CELEBRATES 60 YEARS OF SHARING STORIES
A family-run, multi-generational business founded in Hilo, Petroglyph Press celebrates 60 years of sharing stories through its collection of books about Hawai'i. The other branch of the family business is Basically Books, an award winning bookstore named the Best Bookstore in East Hawaii annually since 2011. David and Christine Reed, along with their daughter, Stacey, have built upon the foundation established by David's parents, Steve and Frances Reed in 1962. On Saturday, September 3 a blessing of the newest location will be followed by storytelling with Leilehua Yuen, a Read Aloud with Christine and guest readers, and the opportunity to mix and mingle with a number of local authors. There will be a free drawing for gift certificates and books, and some free giveaways. Entry forms are available now, no purchase necessary. Open Monday – Saturday, 10-6. at 334 Kilauea Ave. in downtown Hilo.
Naming the business Petroglyph Press was inspired by the ancient Hawaiian rock carvings that fascinated the family when they moved to Hilo, Territory of Hawaii in 1958. Steve Reed came to work as an engineer at Hilo Sugar Co. Frances Reed was Children's Librarian at Hilo Library. David took the reins of the company in 1974 when his parents retired. He was joined in life and in business by his wife, Christine, in 1976. Despite decades of economic ups and downs, societal and technological revolutions, natural disasters, and a worldwide pandemic, dedication and determination have ensured the family legacy endures.
The recent acquisition of new printing and binding equipment, through grants and loans in response to the Covid 19 pandemic, has assisted in three new books scheduled for release in 2022. Maui, Mischievous Hero; Enchanting Creatures of Hawaii Island; and Hawaiian Proverbs and Riddles.
Readers can visit petroglyphpress.com to view the entire line of books. To see them in person visit favorite bookstores or Basically Books in Hilo. Go to basicallybooks.com for a curated collection of books and other Hawaii themed products that can be ordered online.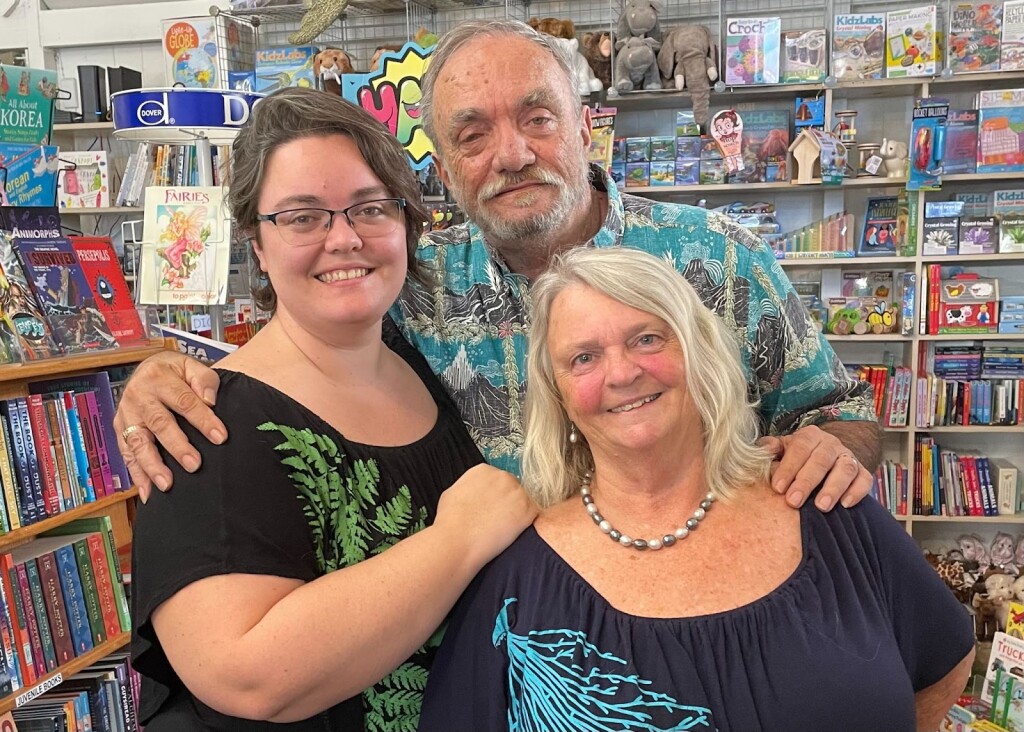 Photo captions:  Stacey, David, and Christine Reed share stories of Hawaii through Petroglyph Press and Basically Books.