NOAA's Mokupapapa Discovery Center for Hawaii's Remote Coral Reefs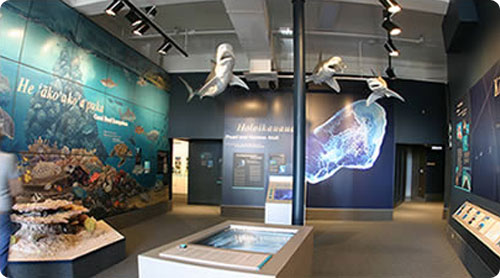 76 Kamehameha Avenue
(808)933-8181
Open Tuesday – Saturday 9a – 4 p.
This museum is FREE and is especially good for children who can explore the Northwest Hawaiian Islands coral reef ecosystem.  The Northwest Hawaiian Islands are known as Papahanaumokuakea Marine National Monument and designated as a UNESCO World Heritage Site.  The museum includes displays that allow the visitor to experience the wonder and majesty of this special ocean region.  Includes interactive displays such as formation of a volcano and a submersible with working robot arms.  A 2,500 gallon salt water aquarium provides a habitat for some of the fishes from the reefs. For more information:
www.papahanaumokuakea.gov/education/center.html
Reviews and Ratings:
Read reviews and ratings for Mokupapapa Discovery Center on Yelp
Interactive Map:
A = NOAA's Mokupapapa Discovery Center
Next Museum: Hawaii Plantation Museum (B)
Ready to buy your Museum Discount Pass?