'Imiloa Astronomy Center of Hawaii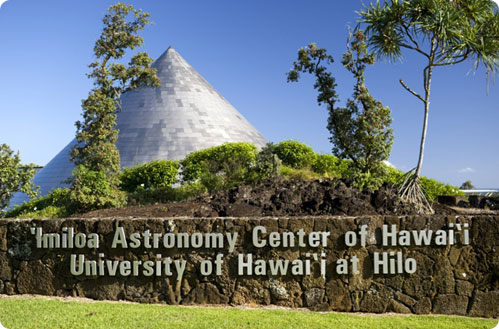 600 Imiloa Place, Hilo
(808)969-9700
Open Tuesday-Sunday 9am – 5 pm
Where astronomy meets Hawaiian culture.  Planetarium, astronomy and Hawaiian cultural exhibits, interactive displays, special programs and films.  Visit the Sky Garden Restaurant.
Museum Discount Pass Special:
Special ADULT entry rate $14, discount valid for up to 2 adults with the Museum Discount Pass.  Kama`aina rates are already discounted.  For more info:  www.imiloahawaii.org
Reviews and Ratings
Read reviews and ratings for 'Imiloa Astronomy Center on Google
Interactive Map:
A = 'Imiloa Astronomy Center
Next Museum: Hawaii Museum of Contemporary Art (B)
Ready to buy your Museum Discount Pass?