Hilo Ocean Adventures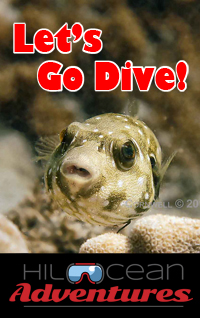 Come live in The World Beneath.  Hear whales sing, swim with turtles, learn about the underwater world.  We are the family-friendliest SCUBA and snorkel adventure source in Hilo.
Experienced, knowledgeable dive professionals who keep safety first will enhance your underwater experience.
Visit our store where we carry the largest brand selection of gear in Hilo.  Underwater cameras, masks, Lavacore, felt-bottom boots.
Try out gear in our indoor heated pool.
Snorkel tours, SCUBA dive tours.  Nitrox.
Contact Information
Address: 1717 Kamehameha Avenue, Hilo, HI  96720
Phone: 808-934-8344
Website: http://www.hilooceanadventures.com
Map