KTA Superstores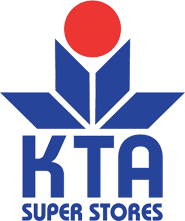 KTA Super Stores started in 1916, as a modest 500 square-foot grocery and dry goods store, by Koichi & Taniyo Taniguchi. Since then, KTA has grown to a five (5) store chain, serving the residents of Hawai'i island.
When they first opened, the couple had no idea their modest business would someday evolve into a multi-store supermarket chain, employing over 800 associates. The couple simply believed they were assisting family and friends obtain necessary grocery and household items.
Early on, Koichi began taking grocery orders from Hilo families and delivered the much needed merchandise by bicycle. In time, the couple built their pick-up and delivery business to the point where they were able to afford a "real" store.
By 1940, a branch store was established in downtown Hilo. This proved to be a wise decision, when the original structure the couple began with, was destroyed by the tsunami of 1946. This branch (Keawe) store was converted into a supermarket in 1953, and was later followed by the opening of the Kailua-Kona store in 1959 (relocated to its present location in 1975). Just seven (7) years later, the Puainako store was opened, followed by Keauhou in 1984, and the Waimea store (located in Kamuela) in 1989.
In 1990, a partner location, Waikoloa Village Market was opened to serve the growing community of Waikoloa Vilage. For over 95 years, KTA Super Stores has been committed to our founder's philosophy, which is a commitment to humbly serve the people of our community.
Contact and location information:
KTA DOWNTOWN, HILO
321 Keawe St.
Hilo, Hawaii 96720
(808) 935-3751
Mon-Sat: 7am to 9pm
Sun: 7am to 7pm
KTA PUAINAKO, HILO
50 East Puainako St.
Hilo, Hawaii 96720
(808) 959-9111
Daily: 5:30am to 12am
Pharmacy: (808) 959-8700
KTA WAIMEA
Waimea Center
65-1158 Mamalahoa Hwy.
Kamuela, Hi 96743
(808) 885-8866
Daily: 6am to 11pm
Pharmacy: (808) 885-0033
KTA KAILUA-KONA
Kona Coast Shopping Center
74-5594 Palani Road
Kailua-Kona, Hawaii 96740
(808) 329-1677
Daily: 5am to 11pm
KTA KEAUHOU, KONA
Keauhou Shopping Center
78-6831 Ali`i Drive
Kailua-Kona, Hawaii 96740
(808) 322-2311
Daily: 6am to 10pm
Pharmacy: (808) 322-2511
Website: