RK Woods Gallery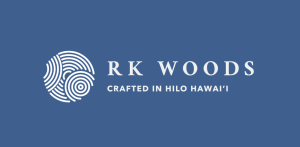 RK Woods Gallery, located at 104 Keawe Street in Downtown Hilo, offers one-of-a-kind handcrafted wood furnishings, home decor, crafts, and gifts made from locally sourced Hawaiian wood like koa, mango, monkeypod, lychee, and more! Every item is completely unique.
Ray Kobayashi, owner of RK Woods and RK Builders, is a building contractor extraordinaire and a master craftsman who oversees other excellent wood artists.
With a CNC router and laser, RK Woods' product line has recently expanded to include custom wooden signs, sculptures of mermaids and sea creatures, cutting boards and Lazy Susans. Other experienced woodworkers now affiliated with the company are creating high-end tables, chairs, bed frames, and cabinets. The designs evolve to use every piece of the precious koa, mango or monkeypod that Ray has acquired.
Other services include residential and commercial and residential remodeling (flooring, ceilings, kitchen cabinets, doors, etc.) as well as custom furniture and wood carvings.
Contact and location information:
104 Keawe Street, Hilo, HI  96720
Open:  Wednesday – Saturday from 11 a.m. to 2:00 p.m. and Fridays 11 a.m. to 7:30 p.m.  Also by appointment, call 808-937-0085.