Botanical World Adventures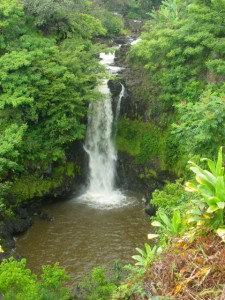 A complete Hawaiian experience for all!
It's ALL here, in one location!
See all the waterfalls. Drive right to the viewpoints for the impressive Kamaee Falls — one of the best waterfalls in Hawaii.
Take a guided tour of the gardens with Garden Director Dr. Lanny Neel (reservations, please). Takes approximately two hours and lunch is also available.
Or make your own self-guided tour and discover the beauty of Hawaii as you explore the 200-acre gardens by car and on foot. Drive to view exotic palms, banana, kukui and hala trees en route to the spectacular waterfalls.
Stroll through ha, hibiscus and native Haaiian plans to the lush Rain Forest Walk. Immerse yourself in our botanical Rainbow Gardens filled with orchids, bromeliads, palms, ti, cinnamon, allspice, the pencil tree and scores of tropical species. You will wanter at your leisure and see the adjacent Arboretum and the huge Children's Maze.
You will also see spectacular 360-degree vistas which include snow-capped Mauna Kea, pastoral grazing and sweeping ocean views.
Everyone will love all the popular activities at Botanical World Adventures!
The gardens is also home of the family-friendly Zip Isle Zip Line Adventure featuring 7 zip lines and a thrilling suspension bridge.
Over 2,000 species of flowers and plants
Guided tours with a horticultural expert (lunch available)
10-acre arboretum
Magnificent Rainbow Garden
Easy to walk self-guided tours with free map provided
Huge jungle maze
Gift shop, snacks and drinks
Contact Information:
PO Box 324
Honomu, HI 96728
808-963-5427
808-934-9105
Hours:
Open daily from 9:00AM – 5:30 PM
Map: