Pacific Tsunami Museum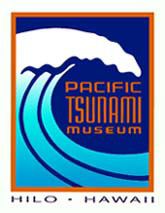 The Pacific Tsunami Museum provides residents and visitors with much needed tsunami education and awareness by combining scientific information   with actual accounts of tsunami survivors. Museum visitors become aware of the vulnerability of Hawaii to the threat of tsunamis as the story of Hilo's transformation due to tsunamis is presented.
Museum exhibits interpret tsunami phenomena through historical pictures, video kiosks, survivor stories, and interactive displays. Exhibits depict impacts of the 1946,1952, 1957 and 1960 tsunami events in Hawaii. Comprehensive exhibits portray the 2004 Indian Ocean tsunami and the 2011 Japan tsunami.  The Museum also features a newly designed science room with interactive tablets and the hands-on exhibits "Wave Machine" and the "Tsunami Warning Center Simulation". Docent introductions are available to those who visit as well as a video presentation in the Vault Theatre.
Open Tuesday – Saturday from 10 am. to 4. p.m.
The museum is located at 130 Kamehameha Avenue, Hilo, Hawaii 96720. We can be reached via phone (808-935-0926), fax (808-935-0842) or email at tsunami@tsunami.org.
Website Address: http://www.tsunami.org