Lyman Museum and Mission House
More than 180 years ago a young missionary couple set sail from New England for the Hawaiian Islands, arriving 8 months later in Hilo and making their home here for the rest of their long lives. The school they established in Hilo educated the sons of East Hawai`i for nearly a century. The Lyman Mission House is now the oldest wood frame building on the Big Island. Built in 1839 by David and Sarah Lyman, the house is constructed partly of the local hardwoods koa and `ohi`a, and is furnished with original and period décor. Take a daily guided tour of this historic home to hear the Lymans' story and to learn about Hilo life in the 1800s.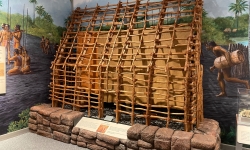 The Mission House is adjacent to the only Hawaiian history museum on the island.  Learn about Hawaii's cultural history from exhibits on Hawaiian culture and the five primary ethnic groups to immigrate for the purpose of working on the Big Island's sugar plantations in the 19th and early 20th centuries.  The Smithsonian-affiliated Lyman Museum also features natural history exhibits on volcanoes and Big Island habitats, and world-renowned collections of minerals and seashells.
The Lyman Museum and Mission House tell the story of Hawai`i, its islands, and its people.  The Museum is located at 276 Haili Street in historic downtown Hilo and is open Monday through Friday, 10:00 a.m.-4:30 p.m.  Please call to confirm Mission House tour times or make reservations:  (808) 935-5021.  Visit www.lymanmuseum.org for more information, or connect with us on Facebook, Trip Advisor, and Yelp.
Location and contact information:
276 Haili Street
Hilo, HI 96729
(808) 935-5021
Website: www.lymanmuseum.org
Map: