Roberts Hawaii

Roberts Hawaii is Hawaii State's largest tour and transportation company, with an unmatched fleet of approximately 900 vehicles and a full line of tours, entertainment options and ground transportation services on four islands:  Hawaii, Kauai, Maui and Oahu.
One of Hawaii's premier entertainment providers on Oahu, the company owns the world's largest Polynesian catamaran, the Ali`I Kai, and produces the award-winning Magic of Polynesia show.  Join us for a sunset dinner cruise or a trip to the Polynesian Cultural Center during your visit to Oahu.  You may also arrange for us to host you at a luau on Oahu, Maui or Kauai.
Hawaii Island (The Big Island) offers a unique array of world class visitor activities.  A popular sightseeing activity is the Hawaii Island Circle Island Tour showcasing impressive natural wonders ranging from volcanoes and tropical forests to its famous black sand beaches.
Established in 1941 with a single taxi cab on the island of Kauai, Roberts Hawaii today is one of the largest employee owned businesses in the islands, with about 1,400 employees.
Book online at www.robertshawaii.com and receive up to 15% off selected tours!<
Call us toll free at 1-800-831-5541 or on Oahu at 808-539-9400.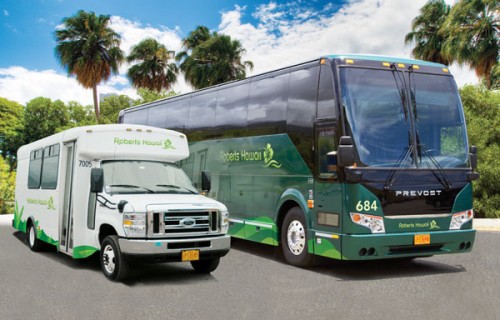 Contact Information
Address: 680 Iwilei Road, Suite 700, Honolulu, HI  96817 (Main Office)
Phone: 808-539-9400 or 800-831-5541
Website: http://www.robertshawaii.com
Map