Things to do in Hilo – DestinationHilo.com
Hilo – where your Hawaiian adventure begins!
Welcome to the Island of Hawaii – yes, Hawaii's Big Island – and the historic town of Hilo by the Bay. Quaint and colorful shops, museums, parks and tropical gardens, lush rain forests and tall volcanoes, black sand snorkeling beaches, outrigger canoes, hula competitions, and much more.
We look forward to welcoming you as you begin your adventure on Hawaii Island. Aloha nui loa.
Big Island Museum Discount Pass

The PERFECT way to learn about Hawaii's history, culture, nature and science! The pass gives you admission to the Big Island's top museums and an historical garden at rates discounted by as much as 50% of the regular entry fee for two people.  You will realize a net savings of $60  for two adults when you visit all these top museums on the Island.  And you will support the preservation of the story of Hawaii, its people, its culture and its natural environment. Simply put the Big Island Museum Discount Pass is the best way to visit the island's TOP museums and gardens.
Take a look at our participating museums or purchase your passes now for JUST $8.00.
Mahalo to Our Supporters!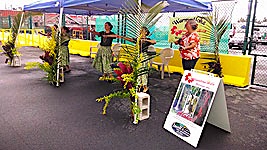 Our supporters enjoy great publicity during cruise ship days.
Visit our Supporters Page
for a list or for more information on how to become one.